Search parameters screen - Search My Network online help
Search My Network is a program to find files and folders on LAN servers or a hard drive of a desktop PC. You may download it here.
Online Help / Search parameters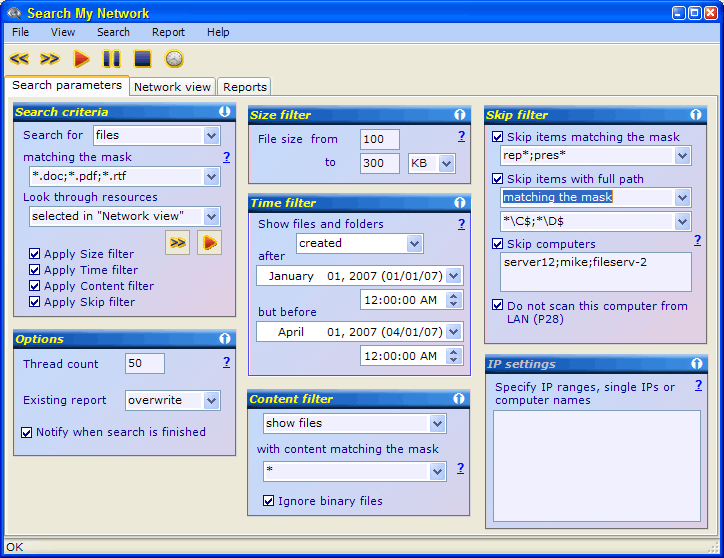 Search parameters screen of Search My Network program contains panes for adjusting different search settings. There are the following panes:
1. Search Criteria - this is the main pane, where you may set the resources to look for (files, folders, printers, etc.), specify search mask or regular expression and choose the way of search (either on the LAN, your desktop PC or computers selected in Network View screen). Also you select which filters to apply (Size, Time, Content, Skip).
2. Options - a set of additional options of search: seeker engine thread count, option to append to or overwrite existing report, and option to notify when search is finished.
3. Size filter - this pane may be used to limit sizes of found files. You may set minimum and maximum file sizes or only minimum or only maximum (place the reserved word any in a corresponding min/max field if it is undefined).
4. Time filter - you may limit creation, modification and access time of found items. You may set a time range by adjustung starting and ending time and dates.
5. IP settings - this pane is only active when you turn on IP search in Look through resources field of Search criteria pane. You may specify a seek range of IPs, single IPs or usual computer names (via semicolon) to perform file scanning only on them.
6. Skip filter - using this filter a user is able to specify which items will be ignored by the searcher: you may skip resources with file names matching a certain mask or regular expression (Perl regexp), with a full path (directory path + file name) matching a certain mask or regular expression, specify computers to skip during LAN scan, including your local PC (if you already know that is does not contain necessary information).
7. Content filter - this filter can be used to exclude or include only files that contain a certain string in text, or if the text matches a specified regular expression. Binary files may be optionally ignored.
Using the panes it is possible to setup numerous types of search on a LAN / localhost computer and efficiently locate required network resources. However, the parameters do not cover all possible real-life requirements. Please do not hesitate to contact us if you need a specific type of search to be executed and you lack options. We will be glad to add one for you.