Search criteria - Search My Network online help
Search My Network is a program to find files and folders on LAN servers or a hard drive of a desktop PC. You may download it here.
Online Help / Search parameters / Search criteria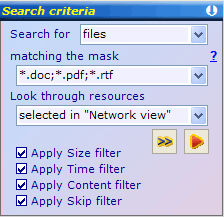 Search criteria pane of Search parameters screen of Search My Network program allows to setup basic criteria for searching through LAN resources. For basic searches (which are the most frequent) this pane may be used alone, but for more advanced searches it can be used in a combination with other panes. The most basic search is just to specify a search mask (e.g. *.mp3) and press the Play button to start the seeker process (which will find mp3 files in this case).
1. The first field of Search criteria pane allows to choose a type of network items which you wish to find and add to a report. These can be one of the following:
files - find only files
files and folders - look for both files and folders during LAN scan
folders - find only folders
shares - discover shares (sharings) on LAN
computers - discover only computers
domains - discover only domains and workgroups on LAN
printers - find network or shared printers on LAN
everything - find all kind of resources (matched the specified mask)
2. The second field of Search criteria pane allows to set a mask or regular expression using Perl syntax (PCRE). The mask or regexp will be used to match against names of items (files, folders, etc.) during search process. If matched an item will be added to a report (see Reports screen).

3. The third field of Search criteria pane allows to choose where to look for resources. The available options:
on the local area network - look through resources on the whole LAN
on My Computer - only search on your desktop PC
on LAN and My Computer - search both on LAN and your PC
selected in "Network View" - perform search only on computers/shares/folders checked in Network View
specified by "IP settings" - only look through computers/remote servers specified by their IP addresses in IP settings pane. The pane became active when you select this option.

4. Search criteria pane allows to enable/disable various search filters. The filters provide additional means for limiting number of search results. The following filters are available: Size, Time, Content, Skip.