IP settings - Search My Network online help
Search My Network is a program to find files and folders on LAN servers or a hard drive of a desktop PC. You may download it here.
Online Help / Search parameters / IP settings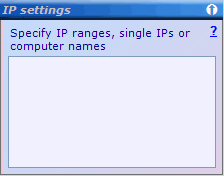 IP settings pane of Search parameters screen of Search My Network provide settings for IP search. You are allowed to specify IP addresses, IP ranges and computer names here, and the search will be performed only on the specified servers. Multiple items should be separated by semicolon ;. IP ranges should be specified using dash - symbol (either with leading/trailing spaces or not). For example, the following is a valid value for IP settings text: 192.168.0.1 - 192.168.0.100; 192.168.1.233; serv23; workstation20. As a result, the search will be performed on servers with the specified IPs and additionally on computers serv23 and workstation20.
Warning: Using IP settings pane it is possible to specify very broad IP ranges that may result in long-time searches (e.g. the range 192.0.0.0 - 192.255.255.255 covers 16777216 IP addresses). The program does not have any limits for this, so be sure to specify IP ranges carefully.
Note that masks and regular expressions are not allowed here.