Skip filter - Search My Network online help
Search My Network is a program to find files and folders on LAN servers or a hard drive of a desktop PC. You may download it here.
Online Help / Search parameters / Skip filter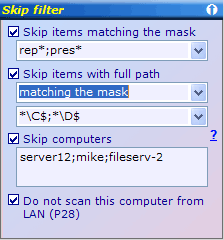 Skip filter pane of Search parameters screen of Search My Network program contains additional options for filtering search results by file, folder or computer names and full paths. The items matched by Skip filter will be skipped and not appear in a report.
There are four checkboxes that enable or disable corresponding filtering parameters. They may be used all together: in this case if an item is matched any of the it will be ignored.
1. Skip items matching the mask - when this option is enabled names of found items will be matched against a mask or regular expression specified in the field. Matched items will be skipped and not added to the report.
2. Skip items with full path - when enabled the found items will be additionally checked if their full paths match the specified mask or regular expression. If yes, the items will be ignored.
3. Skip computers - when enabled this option limits search on specified computers. These could be only fully-specified computer names: mask and regular expressions are not allowed. Multiple items should be separated by semicolon ;.
4. Do not scan this computer from LAN - this option disallows accessing your computer via LAN interface. It is very useful if you are an admin on the computer and/or know that your computer does not contain the required files. Note that, if you have open administrative shares on the computer and have administrator or similar rights for accessing them, searching through LAN may also search your local computer via these open shares. This of course will result in slower search process and additional load of your computer. The above scenario will not happen if you turn this option on.