Content filter - Search My Network online help
Search My Network is a program to find files and folders on LAN servers or a hard drive of a desktop PC. You may download it here.
Online Help / Search parameters / Content filter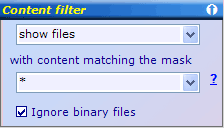 Content filter pane of Search parameters screen of Search My Network program allows to set up text filtering options to limit search results by content. It is possible to exclude files with certain content or include only them.
The first field of the pane contains the following selections:
show files - display only files which match the criteria
skip files - ignore files that match criteria, but show all other files
The second field allows to specify a mask or regular expression (Perl syntax) for matching. Using regular expressions is highly recommended for content filter, because masks do not provide necessary flexibility.
Ignore binary files option allows to avoid filtering binary files (they will go through the filter as it would be turned off).