Search parameters / Options - Search My Network online help
Search My Network is a program to find files and folders on LAN servers or a hard drive of a desktop PC. You may download it here.
Online Help / Search parameters / Options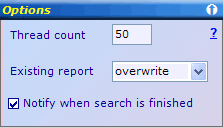 Options pane of Search parameters screen of Search My Network program allows to set additional options of search.
1. Thread count field determines how many simultaneous programmatic LAN seeker routines will be started. Greater values allow to look though LAN faster (especially on large networks) but require more CPU/network resources. By default the value of this field is 50, which is a good balance between speed and CPU/network bandwidth usage. This option also works for My Computer searches increasing speed of finding files on your desktop PC. The maximum value of thread count is 1000.
2. Existing report field provides two options:
overwrite - overwrite existing report as a new search starts
appent to - append the results of a new search to an existing report
3. Notify when seach is finished: when this option is set a pop-up window appears on the screen when search is done, also the default Windows sound is played