Report Edit - Search My Network online help
Search My Network is a software for searching files & folders on LAN servers & desktop PCs with Pro features. You may download it here.
Online Help / Main menu / Report menu / Edit
Report Edit context menu may be accessed either from Report menu or by pressing right mouse button on the report area.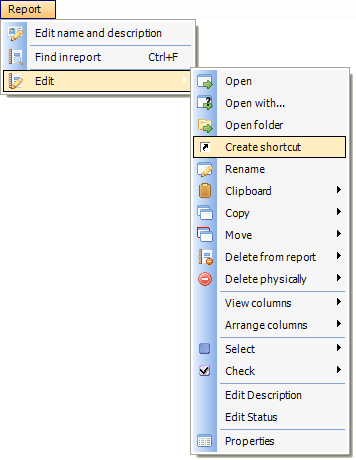 Report Edit menu of Search My Network program contains the following items:
Open - open/run the selected item (or several selected files/folders at once). If the selected item is an executable file - it will be started for execution. If the selected item is a document accociated with some application (e.g. doc is associated with Microsoft Word, avi - with Windows Media Player, etc.), the file will be opened using that application. If the selected item is not a file but a folder, share, or other container, it will be opened in Windows Explorer with its contents listed.
Open with - open/run the selected item, you will be prompted to choose an application to open the item. The standard Open with... dialog is called.
Open folder - open the folder or share storing the current item. The folder will be opened in Windows Explorer with its contents listed.
Rename - set a different name to the selected item.
Clipboard - operations with the clipboiard, including Copy, Paste, etc.
Copy - copy selected, checked or all items in the report to the selected folder.
Move - move selected, checked or all items in the report to the selected folder.
Delete from report - operations to delete items from the report.
Delete physically - operations to delete items (files and folders) from a hard drive.
View columns - select which columns are viewable in the Reports screen
Click here for Search My Network home page