Report menu - Search My Network online help
Search My Network is a software for searching files & folders on LAN servers & desktop PCs with Pro features. You may download it here.
Online Help / Main menu / Report menu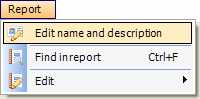 Report menu of Search My Network program contains the following items:
Edit name and description - edit report name and description. This option is useful if you would like to give a descriptive name to a report and/or change its detailed description. Search My Network generates a default description automatically using the settings of the Search parameters screen. Both report's name and description appear on the top of the printed page during printing or at the beginning of a file when exporting.
Find in report - brings up Find in report dialog that provides flexible search through report items.
Edit - access Report edit context menu that provides numerous options for managing report items including open, sort, copy, rename, move, delete, clipboard operations, etc.
Click here for Search My Network home page