View columns - Search My Network online help
Search My Network is a software for searching files & folders on LAN servers & desktop PCs with Pro features. You may download it here.
Online Help / Main menu / Report menu / Edit / View Columns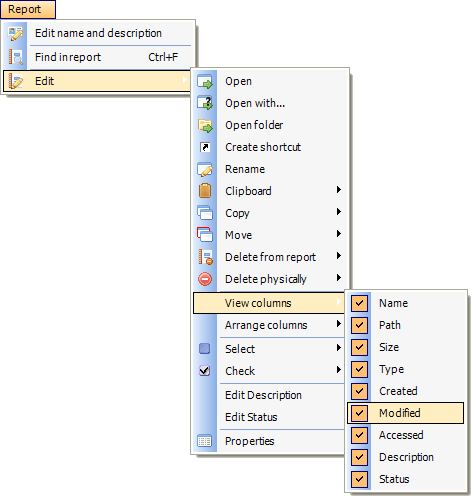 View columns submenu of Search My Network program provides an option to choose viewable columns in the Reports area. The following columns may be turned on or off:
Name - name of an item (file, folder, share, etc.) as provided by a file system.
Path - network or local path to the folder which stores the item
Size - size of the item (works only for files)
Type - type of the item, one of the following: File, Folder, Printer, Share (top-level shared folder), Computer, Domain (network domain or workgroup), Provider (network provider, e.g. Microsoft Windows Network)
Created - the time when the item was created
Modified - the time when the item was last time modified
Accessed - the time of last access to the item (if supported and available on your system)
Description - item's description. The initial descriptions are retrieved from the network (e.g. for computers), but you may change them as needed using Edit Description command in Report Edit menu
Status - item's status. This field shows the status of operations (copy, move, delete, find, etc.) performed on the item. The status may be either success or error or any arbitrary string. You may clear or change the status of the item using Edit Status command in Report Edit menu
Feature: During printing or exporting operations (see File / Report menu) only the columns that are currently visible will be printed or included in the exported file.
Click here for Search My Network home page