Search menu - Search My Network online help
Search My Network is a software for searching files & folders on LAN servers & desktop PCs with Pro features. You may download it here.
Online Help / Main menu / Search menu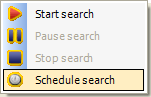 Search menu of Search My Network program contains the following items:
Start search - run the search process using the current settings on Search parameters and Network view screens
Pause search - pause the running search for a while. Press this button once again to resume the paused search.
Stop search - completely cancel search. The items found so far will be preserved in Reports area.
Schedule search - brings up Schedule search dialog, where you can set time and date when to start the search automatically.
Click here for Search My Network home page