Report - Search My Network online help
Search My Network is a software for searching files & folders on LAN servers & desktop PCs with Pro features. You may download it here.
Online Help / Main menu / File menu / Report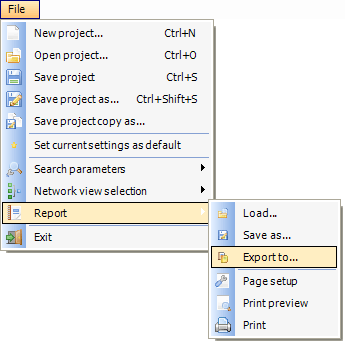 Report submenu of File menu contains the following items:
Load... - load a previously saved network view selection from a file. This operation changes only values on Network view screen.
Save as... - save the current network view selection on a drive under a certain name.
Export to... - export a report into a variety of file formats:

Web page (*.htm) - html document
Excel spreadsheet (*.xls) - file in Excel tab-separated format
Text file (*.txt) - simple text file in the default encoding for your system
Text file UTF-8 (*.txt) - text file in UTF-8 encoding
Multimedia URL list (*.m3u) - playlist suitable for using by Winamp, Windows Media Player and many other multimedia programs
Multimedia URL list - UTF-8 (*.m3u8) - playlist in UTF-8 encoding, supported by many but not all multimedia players.

Page setup - adjust printer settings
Print preview - preview a report before printing, shows how many pages will be in the report, and how it will look like when printed.
Print - print the current report loaded in Reports screen
Feature: Before printing a report is automatically scaled down to fit the required page size. Only the columns currently visible in the report (see Reports screen) will be printed. The order of columns will be preserved (it is OK if you have reordered them in the report). In other words the report will be printed on paper exactly as it appears on your screen.
Click here for Search My Network home page