Find in report - Search My Network online help
Search My Network is a software for searching files & folders on LAN servers & desktop PCs with Pro features. You may download it here.
Online Help / Main menu / Report menu / Find in report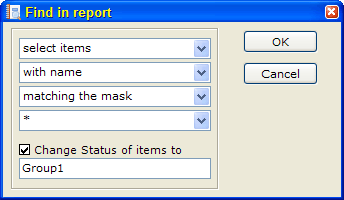 Find in report dialog of Search My Network program enables you to look through report items (files, folders, etc.) by setting search mask or regular expression. The matched items may be selected or checked in the report, and/or have their Status column changed to a specified value (after that you may sort items by this column).
The first combobox enables you to choose operations to perform with the matched items: select items, deselect items, check items, uncheck items.
The second combobox allows to choose how the match would be performed, using either name, path, or full path of the item.
The third combobox allows to choose which items will be counted as matched: matching the mask or not matching the mask.
The fourth combobox is a field for typing a mask or regular expression to match against. The default syntax is using a mask (e.g. *.avi), but you may use Perl-compatible regular expressions by placing slash / as a first character in this field (e.g. /.+\.avi$ ). In mask mode you may use several masks at the same time separating them by semicolon ; (e.g. *.avi;*.vob). The regular expressions syntax is the same as in Perl. Search My Network uses PCRE library by Philip Hazel to support it. You may read more about PCRE at http://www.pcre.org.
The Check status of items to checkbox and field enables and sets the value that would be assigned to a Status column of matched items (see Reports screen)
Click here for Search My Network home page