Options / Report / Fonts - Search My Network online help
Search My Network is a software for searching files & folders on LAN servers & desktop PCs with Pro features. You may download it here.
Online Help / Main menu / View menu / Options / Report / Fonts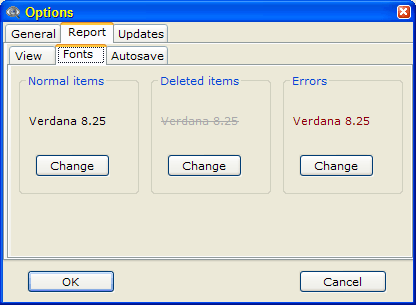 Font sub-tab of Report tab of Options dialog of Search My Network program contains UI for controlling font style and size in the Reports screen.
Normal items are items that are displayed in a report and have not being affected by any operations.

Deleted items are items that were removed from the report using one of Delete from report operations.
Errors are items that were processed incorrectly: for example, when you are trying to copy a file from a remote server, but the server is turned off (so the file is inaccessible) you will get an item marked as error.