View menu - Search My Network online help
Search My Network is a software for searching files & folders on LAN servers & desktop PCs with Pro features. You may download it here.
Online Help / Main menu / View menu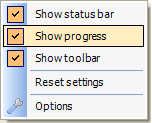 View menu of Search My Network program contains the following items:
Show status bar - check this item to show Status bar on the bottom of the program's screen, or uncheck to hide it.
Show progress - show progress during search: how many items are found so far and information about where the search is performed at the moment.
Show toolbar - whether show or hide Toolbar
Reset settings - restore default positions and values of all controls and settings of the program. This option helps quicky go to the fresh defaults when you would like to start a brand new project.
Options - show Options dialog that allows to adjust numerous settings of the program.
Click here for Search My Network home page