Options / Report / Autosave - Search My Network online help
Search My Network is a software for searching files & folders on LAN servers & desktop PCs with Pro features. You may download it here.
Online Help / Main menu / View menu / Options / Report / Autosave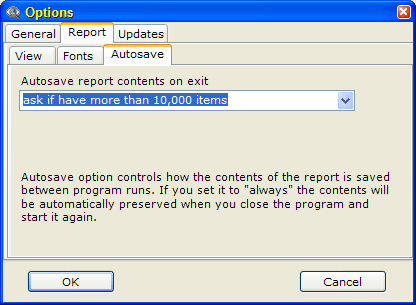 Autosave sub-tab of Report tab of Options dialog of Search My Network program allows to choose a condition when you will be asked if you want to save the report's contents or not. If you were not asked the contents is automatically saved. Alternatively, the contents is saved if you answer "Yes" when prompted. In both these cases the items listed in the Reports screen are saved and will be available when you start the program next time.