Search parameters - Search My Network online help
Search My Network is a software for searching files & folders on LAN servers & desktop PCs with Pro features. You may download it here.
Online Help / Main menu / File menu / Search parameters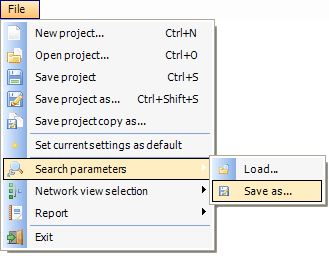 Search parameters submenu of File menu contains the following items:
Load... - load a previously saved search parameters from a file. This operation changes only values on Search parameters screen.
Save as... - save the current search parameters on a drive under a certain name.
Feature: Search my Network allows saving and loading search parameters separately from project files. You may save your favorite masks (or regular expressions), search filters, checkboxes (i.e. everything from Search parameters screen) for performing different types of search and then load them as needed instead of manually re-typing again.
Click here for Search My Network home page